Wicked problems, Adderall and mentoring: Agile on the Beach 2019
Why's innovation a wicked problem? How do you build sustainable and empathetic cross-functional teams? Is Pair-Programming better than Adderall? Why should you care about mentoring? Answering these questions and more was a wide array of talks at Agile on the Beach 2019.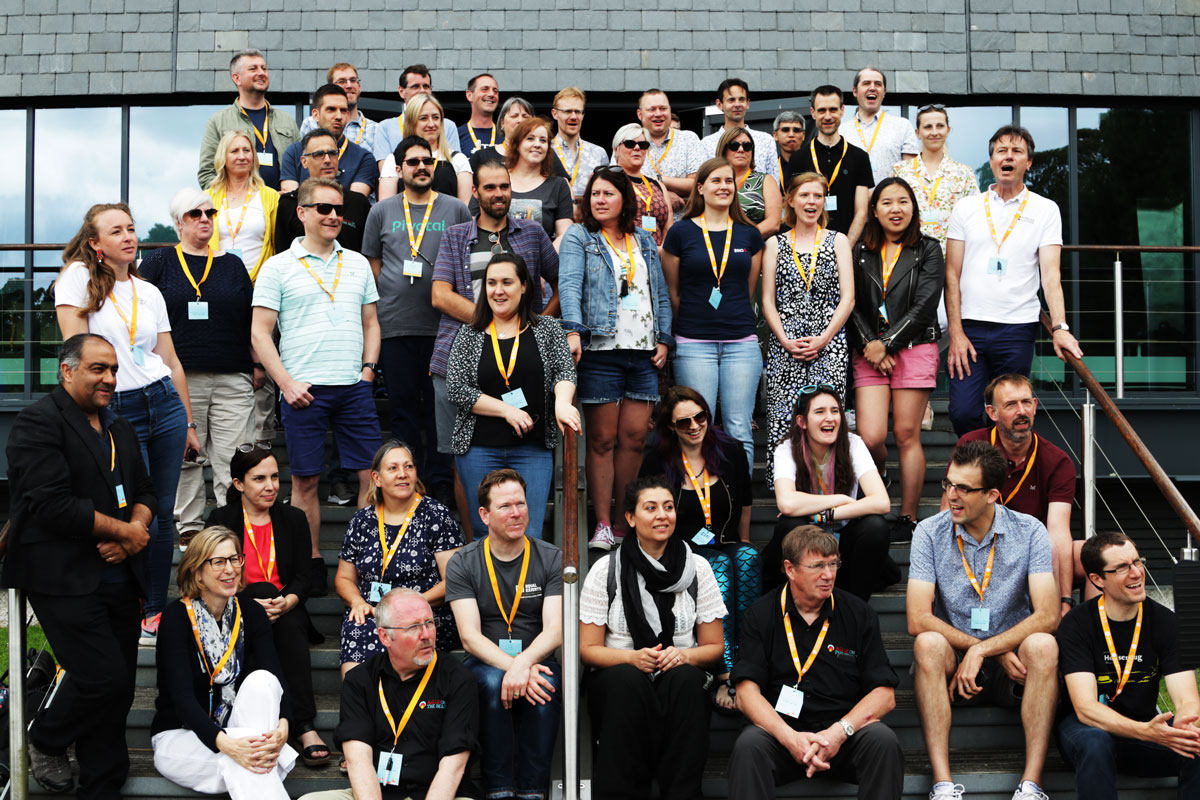 Speakers and organisers at this year's AOTB.
What's Agile on the Beach (AOTB)? It's a two-day conference. It has talks, workshops and social events (one definitely happens on a beach). AOTB brings together practitioners and those interested in Agile methods of working.
Here are four big concepts that we learned at AOTB 2019…
Why innovation is a wicked problem
Presented by Dr Tendayi Viki, the opening keynote "Innovation Is A Wicked Problem" looked at how innovation is a tough thing to do. Big. Small. Waterfall. Lean-Agile: all organisations face similar challenges around innovation.
"One of the hardest things to do is to innovate in a large organisation," Tendayi pointed out. Then he delved deeper, showing that it's also not easy for a small Lean-Agile start-up with venture capital investment to spend.
How does a Lean-Agile business face the same challenges as a bigger, older business that relies on Waterfall? They both get stuck and mired in processes. They act like innovation is a "scientific process" when it's not.
It's because "innovation is a wicked problem" as Tendayi explained, borrowing from a 1973 paper by Rittel and Webber. Tendayi wanted us to see that wicked problems have no "definitive formulation" and that they had no "stopping rule". That unlike the natural sciences, "wicked problems do not have a finite set of potential solutions".
Accepting that there's no universal solution is key. Tendayi showed that you need to start from the point that makes the most sense for the knowledge and context you have and work from there.
How to build sustainable and empathetic cross-functional teams
For User Experience (UX) experts like Dan Goodwin, Denise Yu's talk "Let's build sustainable and empathetic cross-functional teams" hit home. "I'm a UXer and empathy is the most important skill in everything I do. I'm always on the lookout for opportunities to help others in the team to wield that skill," Dan explains. "The talk was amazing."
Denise discussed themes around team working that are already very important here at Bluefruit. Themes included empowerment and psychological safety. She also talked about her experiences related to design and product management roles. Dan has been thinking about both since he started at Bluefruit, and where design and product management roles sit. Points discussed included how you can share some tasks and responsibilities across teams to help an organisation create the best products in the most effective way.
Pair-programming is the new Adderall
Matt Kleiman presented the talk "Pair Programming: Better Than Adderall". He explained how Pair-Programming had enabled him to manage his Attention Deficit Disorder (ADD) and other learning difficulties. This has led to him now having a productive software engineering career. "Matt's talk was inspiring," says Emily King, Bluefruit Content Co-ordinator.
Matt talked about his personal struggle to find a professional job after gaining his degree. He found it difficult to find anywhere that had ways of working that worked alongside his ADD. Deciding that he wanted to work in a "collaborative" workplace and having looked into Agile ways of working, Matt desired to work at a place that did Pair-Programming and did it well. So, he joined Pivotal Labs and found Agile ways of working that balanced well with his own neurodiversity.
"I have found pairing to be a natural coping mechanism for my ADD," Matt said. The accountability inherent to Pair-Programming helps him to stay on track. But when ideas and thoughts do happen, Pair-Programming encourages him to set them aside so he can come back to them later.
Other ways of Agile working have also helped Matt cope, giving him the discipline he needs to work, feeding off his exuberance and creativity. It's gotten him to the point where he doesn't need to medicate to cope with his ADD and is productive and excelling in his career.
Why you should care about mentoring
Our very own Jordan Barkway gave a talk on the last day of AOTB. "The Magic of Mentorship: Becoming Dumbledore" looked at why we should all care about mentoring and consider being mentors. She also showed some handy ways to use Agile processes to organise mentoring.
Jordan talked AOTB attendees through how the visibility of people working in the sector can encourage students of all ages to study Science, Engineering, Technology and Mathematics subjects (STEM) and consider careers in those fields. Regardless of age or seniority, being a mentor can help the next generation see themselves in a tech career and steer them towards it.
Want more Agile on the Beach?
Agile on the Beach releases past talks a year after each event. To watch previous talks (up to and including 2019) head to the AOTB YouTube channel.
In 2021 it will be the 10th annual Agile on the Beach and the organisers are promising that it will be the best AOTB yet.
Looking for embedded software engineers who "get" Agile?
There's more to being Agile than just using Post-It notes. Over the past 20 years, Bluefruit Software has used Lean-Agile practices to deliver high-quality software and consulting services to a range of sectors, including medtech, industrial and scientific. And we can do the same for your project.
Let's set up a call
Did you know that we have a monthly newsletter?
If you'd like insights into software development, Lean-Agile practices, advances in technology and more to your inbox once a month—sign up today!
Find out more