Meet Bluefruit's new EOT trustees
As an employee-owned company, it is important that everyone at Bluefruit Software has their voice heard. We recently held a company-wide election to choose the new trustees for our Employee Ownership Trust (EOT). These individuals will represent colleagues' interests in company decisions for the next three years, so it was crucial that we got the process right.
In this post, we discuss the benefits of the EOT, examine the election process, and meet the successful candidates…
Employee-owned since 2019
In October 2019, Bluefruit became 51% employee-owned, and a Trust was formed to hold the resulting shares on behalf of its members—the EOT. As majority shareholders, this Trust has a big say in the way the company is run. This is where our trustees come in.
Trustees are individuals, chosen by Bluefruit's employees, to represent them on the board of the Employee-Ownership Trust. Anyone can put themselves forward for the position, and each member of the EOT is allowed a single vote. This promotes a panel of trustees that is:
Diverse
Inclusive
From all areas of the business
To further harness these benefits, the number of employee trustees has now been increased, from two to four.
"The key reasons for increasing the number of seats were to increase diversity and inclusion, but to also allow staggered elections so that there is continuity on the board."
Judith, Employee Trustee
What's in it for the employees?
Employee-owned businesses enjoy several benefits, such as greater productivity, fewer sick days, improved staff retention, and more. However, most important of all, it benefits the employees themselves:
Empowerment
As shareholders, everyone at Bluefruit gets a say in how the company is run. Whether it's company ethics, office location, perks, bonuses, or something else entirely, anyone at Bluefruit can put their ideas to the EOT via the "EOT Voices Group". This group, which includes colleague representatives from each of Bluefruit's teams, meets regularly with trustees. Want to raise an issue? Just speak to your team's Voices rep.
"Employee ownership uses its ownership and governance structures, alongside a culture of engagement and empowerment, to enable employee owners to have a voice and a stake in the wealth they create."
Source, Deb Oxley OBE, Chief Executive, Employee Ownership Association (EOA)
Profit share
Everyone here shares in the company's success. When Bluefruit is profitable, the EOT can decide to share that profit with the shareholders. In real terms, this means each of us can receive up to an additional £3,600 tax-free, each year.
It doesn't matter what your position is within the company, or how long you've worked here; the pot is split evenly and calculated pro rata, so everyone receives their fair share.
At some businesses, employees work their socks off, only to see the CEO buy a shiny new BMW with the profit. Here, employees are working for themselves and each other, and everyone reaps the rewards.
Satisfaction
Earlier this year, we carried out an Employer Net Promoter Score (eNPS) survey. eNPS rates employee satisfaction and loyalty and gives an overall score from -100 to 100. Bluefruit scored 53, which is considered "excellent".
Bluefruit Founder, Paul Massey, talks more about the benefits of employee ownership in an earlier blog post.
The election process
Employee trustees run for a three-year term, so this was the first election since 2019.
As such, both existing trustee positions were up for grabs, as well as the newly created ones. In future, however, we will vote on just two seats at a time.
Fairness is a key part of Bluefruit's company values, so it was important that the voting process was:
Impartial
Transparent
Well documented
"Documenting the EOT election process was something we should have done first time round. Hindsight is 20:20 and all. But this time round we were able to build out a detailed process document as we worked to make the election happen. With documented processes, it means that anyone in the business should be able to run an election when we next need one."
Emily, acting Election Coordinator and Returning Officer
The first stage of the process was nominations. To remove barriers to entry, anyone who wanted to run could do so; candidates nominated themselves, rather than rely on a third party. They were also invited to attend an EOT board meeting, so they knew what to expect from the role.
Once nominations had closed, the seven candidates created campaign posters to convey their experience and vision. These were displayed in break rooms and available online.
A live-streamed Q&A session (recorded and made available to those who couldn't attend) allowed the nominees to tell everyone about themselves, and for the voters to ask about their priorities. An existing EOT-focused Slack channel was used to encourage voters to ask any further questions they had for the EOT hopefuls.
The vote
Proportional representation is something we value greatly, so we used the voting system that best reflected this: the Single Transferrable Vote (STV). STV allows everyone to vote for as many of the candidates as they liked and rank them in order of preference. None of that first-past-the-post business for us.
Find out more about how STV works in this video:
When the polls closed, 88% of Bluefruit had cast their vote, and our four trustees were decided.
Meet the employee trustees
Tess A'Lee
Role: Software Tester
Time at Bluefruit: 3+ years
"The culture at Bluefruit is something I'm passionate about maintaining and nurturing as the company grows, to me it is intrinsic to Bluefruit and is why I love being here so much."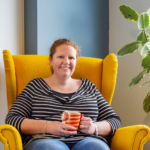 Judith Coughtrie
Role: Team Lead
Time at Bluefruit: 8+ years
"I am passionate about keeping the fantastic work environment we have. I value how unique Bluefruit is, and I will do my best to protect that."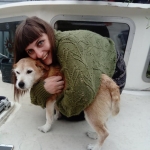 Heather "Meeds" Flockton
Role: Junior Developer
Time at Bluefruit: 5+ years
"I always dreamed of working for a company that valued their employees more than they value their profits. Having found this at Bluefruit, I'm keen to preserve it."
Chris Wright
Role: Senior Client Success Specialist (Indirect)
Time at Bluefruit: 4+ years
"As an EOT trustee, my goal is to listen, absorb and reflect on the views and opinions of all our employees at an individual level as we continue on our path of growth."
Want to work for us?
As this post has hopefully shown, Bluefruit values its people—not as a commodity, but as individuals pushing toward a shared goal. We are empowered to make decisions about how the business is run, to work how we work best, and share in the rewards of our hard work.
If you're thinking: "I want to work there!", then take a look at our careers page. As a growing company, we're regularly recruiting for new positions.
Did you know that we have a monthly newsletter?
If you'd like insights into software development, Lean-Agile practices, advances in technology and more to your inbox once a month—sign up today!
Find out more