Meet the Engineer: Alex, Senior Test Engineer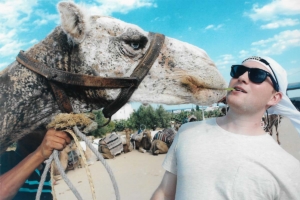 Hi, Alex! Thanks for chatting with us. Are you able to tell us a bit about your latest projects?
I've been working with several international clients to bring innovative medical devices to market. The details of the projects are under strict non-disclosure. Still, they most recently have included: point-of-care diagnostic devices, IoT Health wearables, medical systems monitoring and control, and some general Software as a Medical Device projects.
What sort of role do you have here at Bluefruit?
I lead a sub-team of specialist testers performing independent, system-level validation testing for highly regulated projects.
Outside of this:
I work closely with the other senior test engineers to drive company strategy in quality assurance.
I'm involved in the tester recruitment process.
I provide tester training and support personal development.
I work with the consultancy team to support clients looking to navigate the complexities of medical device regulation.
I work with the sales and marketing team to provide technical research for prospective projects.
I work on internal research and development projects.
What skills do you need to do your job?
Generally, as a test engineer…
You should be logical, methodical and have good attention to detail. An aptitude for technology would be helpful, but you shouldn't let a lack of formal experience put you off if you're thinking of applying. I've trained testers from a wide variety of backgrounds. Some of our testers and developers started life as retail workers, chefs, teachers, and historians!
Effective communication skills are essential. You'll need to communicate with various stakeholders in what can be a complex environment. You'll also certainly spend some of your time writing test cases and reports.
We're constantly encountering new concepts and technology. You should be naturally curious and always be willing to learn something new.
More specifically, as a senior test engineer…
At the senior level, we're expected to have consistently demonstrated excellence in foundational testing skills. We'll also have experience successfully delivering on several projects and possess enhanced technical skills. I know my way around an oscilloscope, logic analyser and a circuit diagram.
While an end-user is unlikely to see it, I do occasionally write some code. I write code for automated testing suites; scripts for data collection and analysis; reporting tools; workflow tools; simulation tools and tools for general break testing.
I'm a talented teacher and communicator. Public speaking, client communication, training and project management regularly form part of my day-to-day.
Bluefruit's senior personnel are self-motivated problem solvers. We're empowered at every level to make our own decisions and continually innovate.
How did you get into this role?
Good timing. I'd just returned from travelling, and Bluefruit were advertising. I applied and impressed my interviewers. Looking back on how I joined Bluefruit, this is a role I feel I spent my whole life building valuable skills for.
I studied Biology, Chemistry, Physics and Psychology at A-Level and Biological Anthropology at University. But when I left university, I found myself in business management and general freelance work. I was feeling unfulfilled but becoming a test engineer changed that.
Test engineer is an entry-level role at Bluefruit, but my background and work ethic helped me progress quickly. My existing skills and knowledge in communication, project management, bioscience, experimental design, metrology, and data analysis were often assets in settling into the role.
What do you enjoy about your job?
Breaking things! While acceptance and validation testing are part of the role (demonstrating that the software does what it's supposed to do), I love exploratory testing. Exploratory testing involves looking through a system and finding interesting ways to break it using various tools and techniques.
If a software engineer creates, a test engineer destroys. (For the greater good, of course.) A software engineer's role is to create something and give some confidence that it does what it's supposed to do. Mine is to demonstrate it doesn't.
Job satisfaction is significant. I contribute daily to the development of technology that improves the lives of people across the planet.
The role also fits my playful personality as well. I love thinking of creative ways to make a system behave in ways it shouldn't.
What is your favourite thing about working here at Bluefruit?
The opportunities for learning and personal development. Every project brings something new, and Bluefruit invest heavily in enabling everyone to learn the skills they need to perform to the highest standards. It's just one example of how Bluefruit put their money where their mouth is regarding employee well-being and job satisfaction.
Since joining, I've learnt coding skills and earned industry-recognised qualifications in software testing and cybersecurity.
What do you do on the weekends or in your spare time?
I'm a "maker" and "experimenter" by nature, enjoying creating things from raw materials and learning new things. It could be anything that catches my eye. It could be an electronics project, general model making, a movie prop, or some general hardware hacking/modification.
I get out in the sea when I can. We're blessed here in Cornwall with some of the country's most spectacular coastline. I'm a PADI certified scuba divemaster, and I also enjoy a little surfing or kayaking.
I love to travel. I spent over a year travelling throughout South-East Asia before joining Bluefruit. I love to learn about other people's cultures, dabble in the language, see the sights and indulge in fantastic cuisines.
What do you think is the most exciting thing happening in the software/tech/engineering space at the moment?
Everything! Power generation and storage technology, AI, neural interfaces, innovative medical device technology, autonomous vehicles, agricultural technology, and aerospace technology. Everything's connected.
That's cheating, Alex. I said the MOST exciting thing.
Oh, okay. Power generation and storage. (Think nuclear fusion and battery technology.) Imagine almost unlimited power. It would revolutionise transportation, food production, materials manufacturing, keep people warm, keep people connected. We could continue to delve deeper into the mysteries of high energy physics and continue to push the boundaries of space exploration.
If Bluefruit had an unlimited R&D budget, what would you want us to work on?
Ethics and philosophical challenges aside? Neural interfaces. Seamless human-machine interfaces, improved memory, improved reflexes, a cure for pain, a cure for neurological disorders or just an unparalleled, immersive, hedonistic gaming experience? There are so many possibilities!
Anything else you want to share?
Suppose you're reading this because you're about to apply to become a tester at Bluefruit. Great! Please do it! It might just change your life. It changed mine for the better. I get to do meaningful work with some of the most exceptionally talented people in the industry.
Don't be intimidated by anything you've read here, either. The people at Bluefruit come from all kinds of backgrounds and bring their own unique experiences to their respective roles. Whether you're a retail assistant, a forensic scientist, or a seasoned industry professional—a tester role could be for you. If you're bright, honest, and willing to learn, we can teach you the skills you need to become a valuable member of the Bluefruit Test Team.
Top tips for the tester recruitment exercise:
I wish you the best of luck and hope to see you soon!
Did you know that we have a monthly newsletter?
If you'd like insights into software development, Lean-Agile practices, advances in technology and more to your inbox once a month—sign up today!
Find out more