Bluefruit Agile Huddle – into the big blue!
Time flies and the first week of our Agile Huddle is already over. In previous years, we've created mock projects for teams to work through. However, this year we decided to change things up a bit and use the project to do some good for a local social enterprise. This gives the Huddle attendees area chance to work with a real client on a real project. The wonderful Marine-i team connected us with The Rock Pool project about 8 months ago and their project needs felt like a great fit for the Agile Huddle.https://www.therockpoolproject.co.uk/
The Rock Pool Project is a Cornish social enterprise focusing on marine education and conservation. For two weeks, our Bluefruit Agile Huddle attendees are working directly with the Rock Pool Project team to deliver a proof of concept that will enhance the fun of rock pooling and help to monitor local marine life. During our visit at Penryn Campus Falmouth on Friday, the 8 attendees, aged 16 – 30+, viewed and discussed their first Sprint with Dr. Ben Holt, Director of The Rock Pool Project. They talked through the project board which included user stories, backlogs, and final tests. Byran Wills-Heath, who won the Cornwall Live EDGE awards earlier this year for his outstanding efforts during the recent Huddles ("Most inspirational IT, Digital or Multimedia Teacher"), encouraged our attendees to ask more questions during the session to understand all aspects of the product.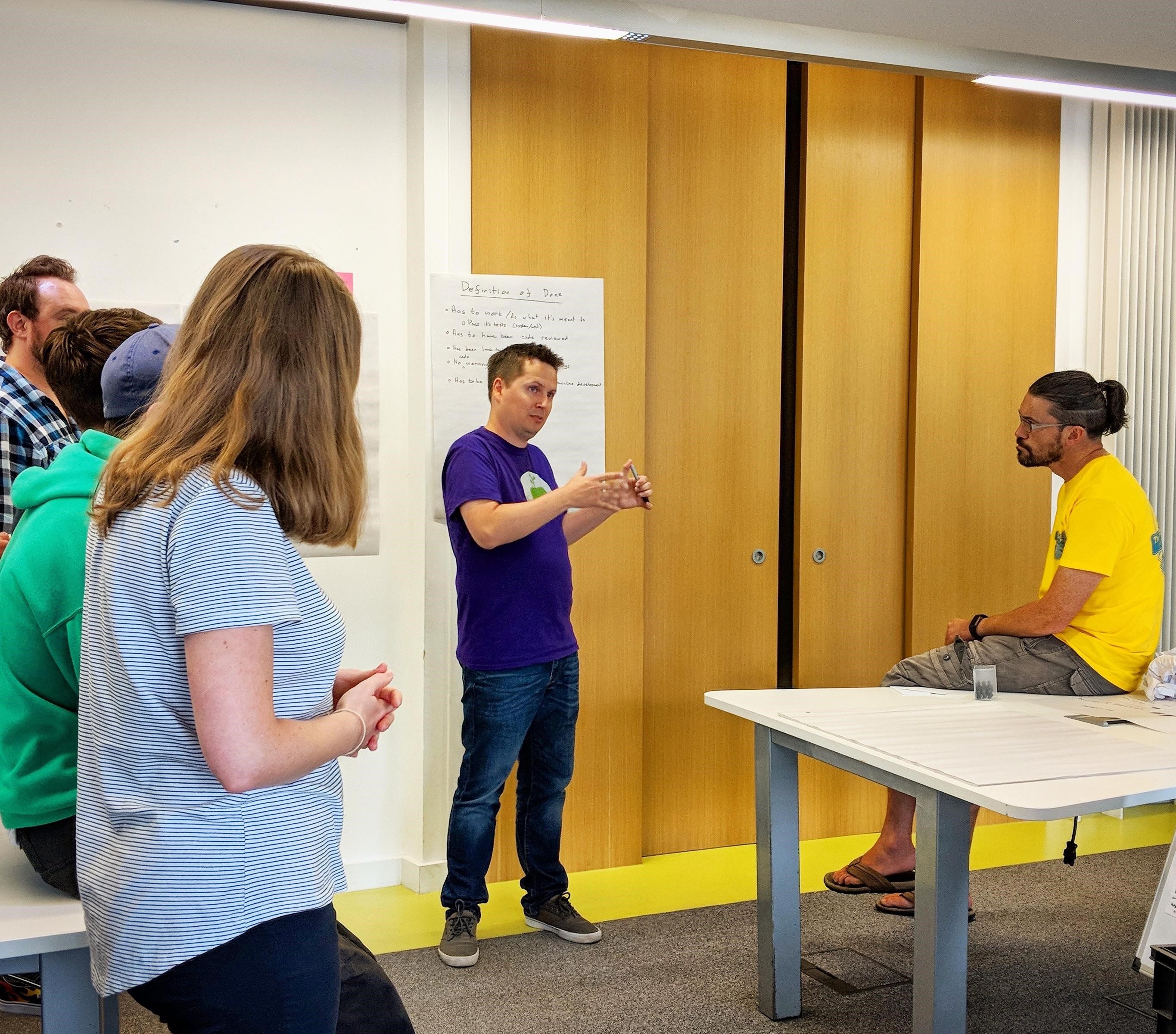 We had a quick chance to catch up with Dr. Ben Holt, to get his thoughts on the Agile Huddle so far:
"It's been a fantastic experience working with the Bluefruit Agile huddle. The huddle team have been developing digital solutions for long-standing problems associated with collection and processing of scientific data collected by the public. The vision for the Rock Pool Project is to engage with the public in order to facilitate the widespread collection of vital data from our natural marine environment. To do this we need to develop systems that allow non-experts to record such data in a fun and engaging way.

"The summer huddle is a perfect opportunity to develop these ideas as it has allowed our project to work hand in hand with the software developers, ensuring that together we find digital solutions that really address our needs. It has been hugely enjoyable and interesting to work so closely with the team during the event."
Running from the 30th July to 10th August, the Bluefruit Agile Huddle is completely free for anyone age 16 or over who has a real passion for programming, and a desire to kick-start or elevate their career in Software Development. Apart from working on a real project, the attendees will get a better understanding of different software development tools, practices, and techniques. They will learn how to use agile methodologies and project management, get a realistic experience of working in a team but also meet and network with local employers in the industry. It's a great chance to put a real project on their CVs.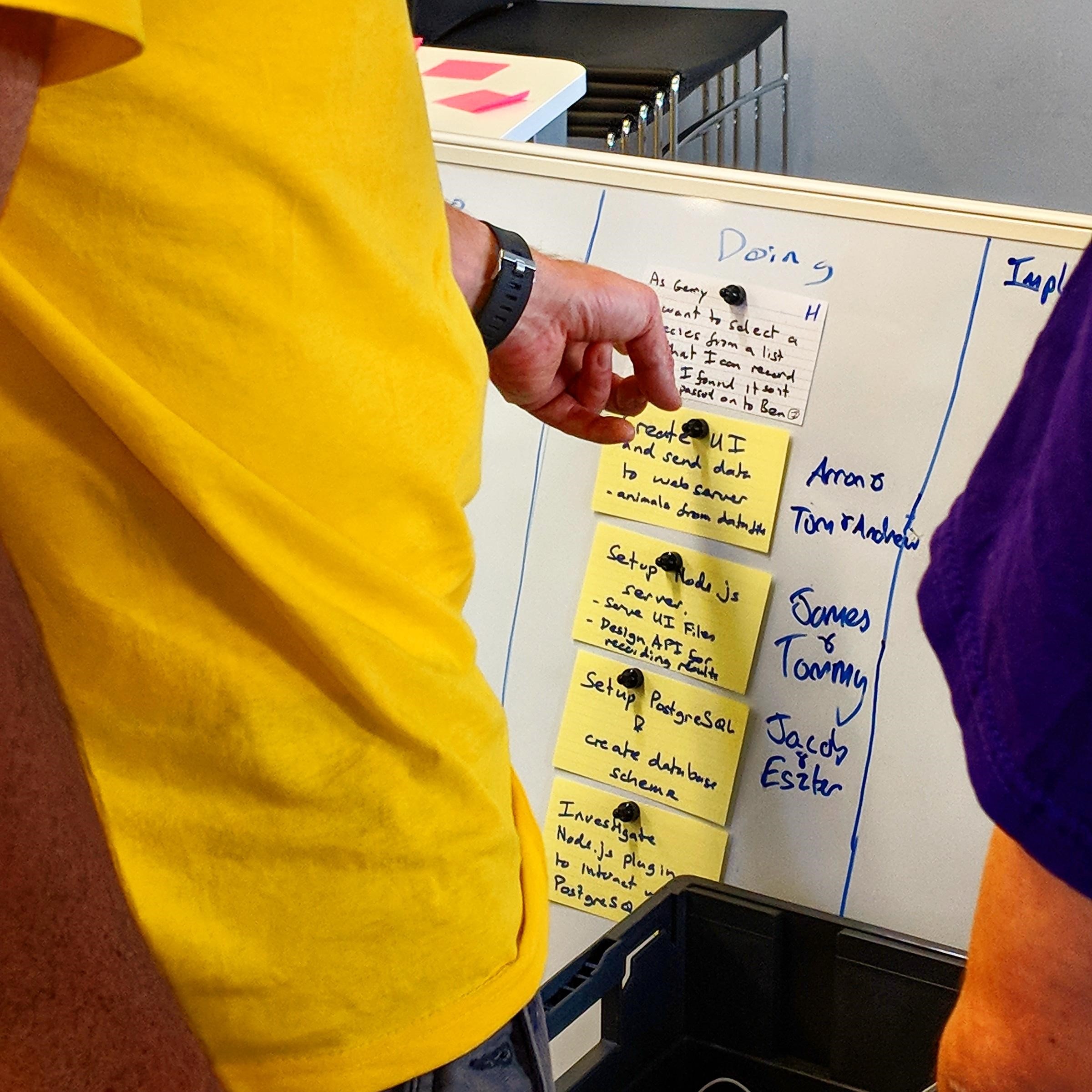 Tom Gosling, who is taking part in the Agile Huddle for the first time gave us some impressions:
"As a self-taught hobbyist programmer, I have found the Agile Huddle has taken me out of my comfort zone and given me a taste of what it's like to work in a professional environment on an interesting project for an important client. As I had only previously written software as a solo developer, getting experience working with others in an Agile environment has been challenging but invaluable for me to make the transition to becoming part of a professional software team in the near future. I had only previously experienced Agile and Scrum methodologies in the abstract so seeing them shown masterfully in a practical context has given me a glimpse into what can be achieved by them."
Did you know that we have a monthly newsletter?
If you'd like insights into software development, Lean-Agile practices, advances in technology and more to your inbox once a month—sign up today!
Find out more