Be inspired⁠—be empowered⁠—be a woman of Silicon Roundabout
Written by Annette Zander, Marketing
A few weeks ago, four intrepid Bluefruit colleagues made their way to London to join the Women of Silicon Roundabout conference which is all about inspiring, celebrating and connecting women working in technology. Coming from different Bluefruit Departments (Tester, Developer, Marketing and Sales/Business Development) we all had different expectations and motives when coming to the conference – which is one of the biggest Tech events for Women. But there was something we all had in common: To learn more about the newest trends and insights in technology, and especially how we, as women, can shape, work and lead in these exciting fields.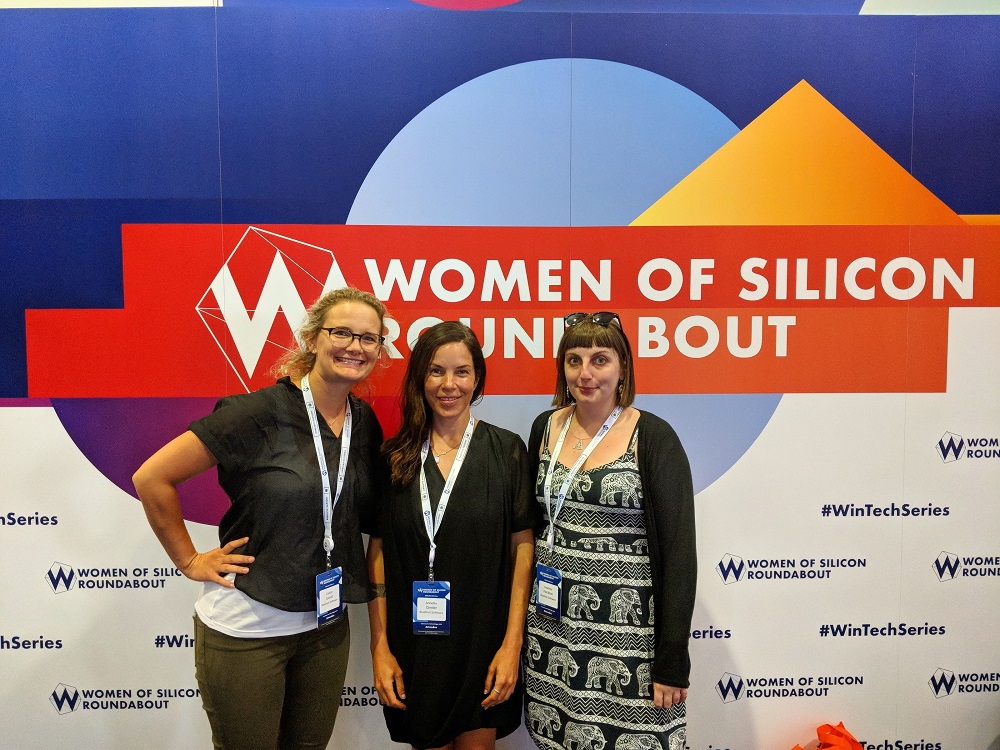 The 2-day conference at the ExCel London boasted 8 tracks, covering technology and leadership topics, several seminar zones for hands-on workshops and some skill labs to improve soft skills. Alongside 4,500 other people (mostly women, but a few very brave men joined as well) we listened to many inspiring talks covering fascinating areas of AI, Big Data, Processes, Design and Testing, Empowerment, Personal Growth, and of course the latest hacks in software development and technology. These were presented by industry pioneers in Tech – eBay, Facebook, Microsoft, Google, Deepmind, and IBM – just to name a few.


Of course, we also had some time to share our experience across our teams and roles, the importance of female role models and how we can build and nurture these roles. The exhibition zone was quite interesting too – no, we didn't get lured in by cupcakes and smoothies at all! On a personal note, I quite enjoyed spending more time with colleagues I'm not working very often with in order to network and exchange experience.


As mentioned, we had all different scopes on the event which was one of the reasons why attending this conference was so important and valuable for us! This is what our attendees have to say about the Women of Silicon Roundabout Conference:
Jane Orme, Bluefruit Software Developer:
"I found the conference to be empowering and inspiring. In particular, I really enjoyed the talks about diversity in AI development and gained confidence from some of the soft-skills seminars about assertiveness in the workplace and tips for overcoming perfectionism/imposter syndrome. I am hoping to start a course in AI development shortly."
Heather Flockton, Bluefruit Tester:
"The Women in Technology conference piqued my curiosity, I'd never been to anything  like it. I've had my own ideas on why there is a smaller female presence in the technology sector, but I was intrigued as to what topics were likely to be covered at the event. When talking to friends, I received a wide range of assumptions, both negative and positive, the big question being 'Is this a man-bashing event?'. A wide range of topics was covered in talks and workshops. They ranged in subject from 'Managing your Work-Life Balance', 'How to be Confident and Lead Others' and 'Future Technology'. Both speakers and audience were comprised of both males and females.

"One of the biggest messages I felt from across the board was to be 'pro-active and not re-active'. Aside from a few disappointing comments made on twitter by the audience, there was no negativity towards anyone. Many of the talks didn't just include women, but stressed the importance of diversity in general and showed how beneficial it can be to a team. A regular theme was that we should encourage and engage the younger generations to widen the variety of individuals working in technology.  My favourite talk, by Anastasia Dedyukhina, delved into neuroscience and psychology to discuss the effects of technology on attention, memory and brain development. It is easy to fall into habits without stepping back to consider what we are doing or why we are doing it. Working at a computer desk every day without considering your environment, posture, hours of working or how you timetable yourself, may be impeding not only your productivity but your creativity. If you've never been to a technology conference, I'd highly recommend Women in Technology. You are guaranteed to learn something! And it's a brilliant opportunity for networking."
Annette Zander, Bluefruit Marketing:
"A conference with 4.500 other Women in Tech? Sounds amazing! After a few of us signed up to the event I got even more excited. Speakers from big and small players in Tech were both – male and female – talking about diversity and inclusion in general and the importance of it as well as covering lots of interesting fields of science and technology. I was quite surprised to hear that Women were leaders in computer science 30 or 40 years ago – which has dropped dramatically in the 80's and 90s. How can we push back and bring more women back into the world of Tech and Science? Especially the new star on the Tech horizon AI / Machine learning offers excellent opportunities for women to close the gender gap again as we can bring not only our technical knowledge but also non-biased opinions and social skills into the game.

"Apart from the science and tech talks I enjoyed the soft skill training and networking with my colleagues, discussing things we just listened too. After organizing this event and navigating our little group through London's rush hour I must admit that I value working in Cornwall a lot as well, as it's such a fantastic place to work and live. Especially after a golden sunset welcomed us back home."
Caitlin Gould, Director Business Development Bluefruit:
"The Women of Silicon Roundabout event was even better than I expected. It was amazing to look around a room of talented women of all ages and backgrounds all working within the tech sector. It helped remind me of just what a powerful force we are. I really enjoyed the talk from Nasreen Abdul Jaleel on how they tackled hiring more women into their technical roles. Her talk gave me a number of ideas on how we can continue to improve the diversity of our Bluefruit team."
Thanks, Women of Silicon Roundabout – see you next year!
Did you know that we have a monthly newsletter?
If you'd like insights into software development, Lean-Agile practices, advances in technology and more to your inbox once a month—sign up today!
Find out more