Our bespoke software development teams and embedded experts deliver custom solutions for our clients.

Quality is at the heart of everything we do.
Bluefruit Software's UK-based embedded specialists work with innovative clients worldwide. Our team includes software engineers, testers, UX, compliance and quality specialists. Bluefruit believes excellent embedded software happens through investing in people and processes and a dedication to quality. We aim to meet your organisation's needs across hardware design, software, and high-level technical consulting.

Embedded software development for edge AI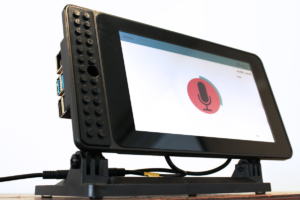 AI isn't just for the cloud. With advances in microprocessors and microcontrollers supporting AI directly on embedded systems, there's no better time to discover how you can bring machine learning-based intelligent analysis and decision making to embedded systems.
Bluefruit Software are involved in AeroSpace Cornwall funded R&D around AI and machine learning in embedded systems and edge AI projects for several clients.
Discover how our software teams can support AI on your hardware.
At Bluefruit we work with clients across a number of different industries:
❝ Starting out, we knew that embedded software represented one of the most critical pieces of our development roadmap. We needed to quickly find a way to build out a secure and robust solution that would not require us to go back and rework most of the software. Buzr met with over 30 software development companies/contractors in order to find the right partner to help us on our journey. Bluefruit was an easy choice due to their expertise and working style. Using an Agile approach, we were able to structure our work with Bluefruit into individual sprints with well-defined goals. This allowed us to iterate on the embedded firmware with the Bluefruit team while also iterating on other aspects of the company, such as the hardware design & funding stages. As an early stage start-up, this was critical. ❞
❝ Bluefruit provide a professional, innovative and technical team in a very friendly environment. They display a culture of continuous improvement in everything they do for us, this and their positive approach to every challenge makes them a great partner to work with. ❞
❝ Paul and his team have worked with us on a number of projects and bring an extra dimension to software product development in terms of their commitment and technical expertise. ❞
❝ With years of working together, we regard Bluefruit as a valued extension of our internal product development team. ❞
❝ A 'can do' approach shines through on each project, with customer satisfaction very much at the top of the list. ❞
Are you starting a new embedded software project? Or are you looking to update an existing product? Talk to us.
A successful embedded software project is a balance between technical requirements, potential compliance obligations, business needs, financial pressures, and team dynamics. We find this is best met by taking a bespoke approach to every brief. Our team take the time to not only listen to your requirements but to explore them in-depth together. This results in a detailed assessment of your software needs and a proposal that focuses on providing you value as early as possible, no matter where you are at in your project lifecycle.